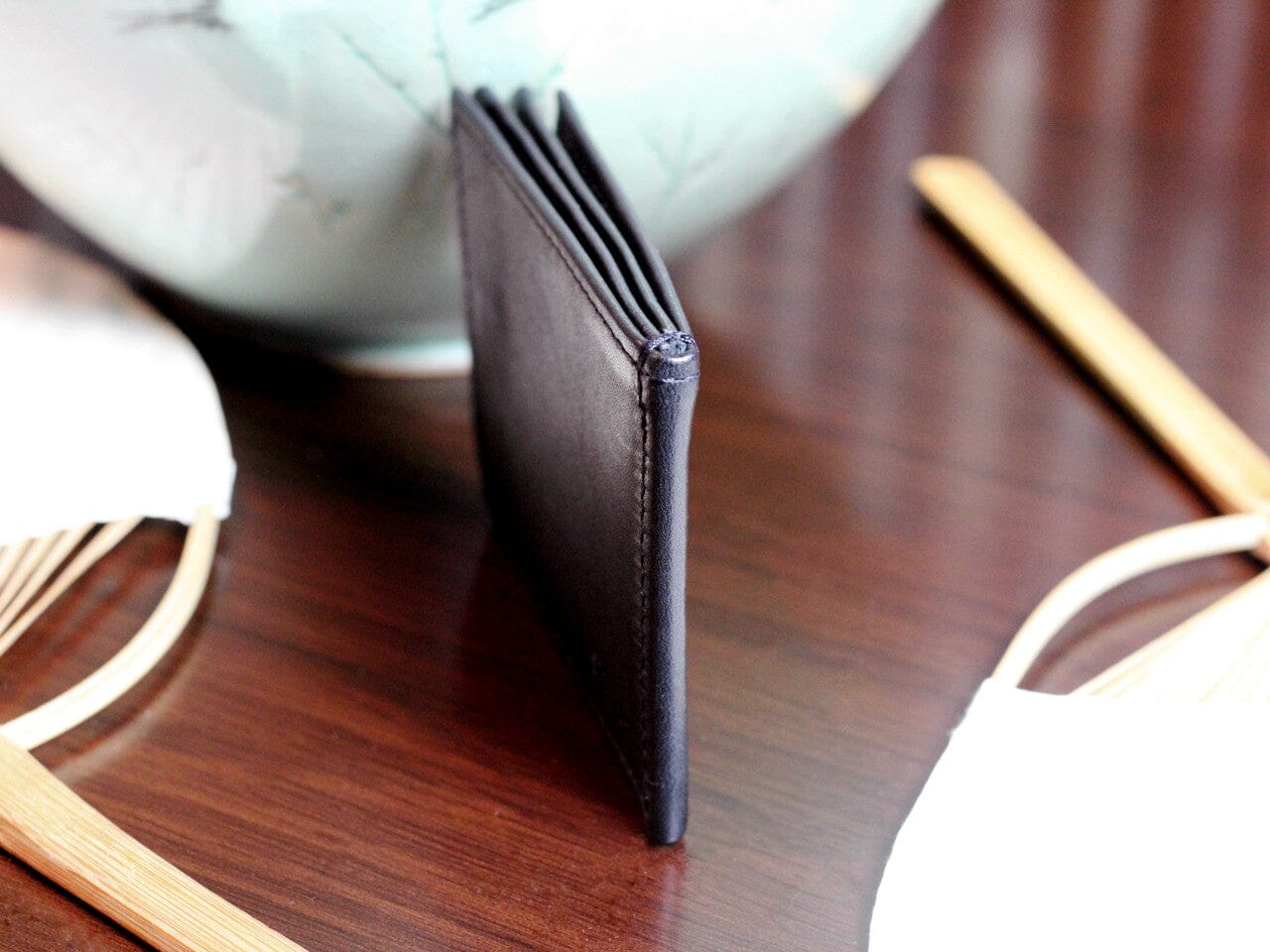 Slimmy Original: Invisible Sophisticated Allure
Did you ever notice that the best waiters are those that you barely remember, except for the  lingering sense of excellent service. This invisibility of excellence is what permeates our conscious, and though we can't put our finger on it, we have this resonance of deep feeling that all is right with the world when we experience it.
This is exactly what Slimmy Original brings to the table. Seamlessly conducting transactions with an invisible sleekness, you get a sense of satisfaction that your wallet didn't get in the way of anything. It did it's job perfectly, by practically not being there.
Slimmy Original is the flagship slim leather wallet of bolstr (formally Koyono) that started our slim wallet design obsession. By reducing layers of leather in the wallet, Slimmy Original has three open access pockets for cash, 2-4 'most-used' debit/bank/building cards, your ID, and receipts. You can use the pockets in any way that best suits your. For example, keep cash and receipts in either of the outside pockets and your most used cards in the center. When carrying your Slimmy Original in your front pocket, be sure to have the Slimmy® facing away from your for RFID protection. Reduce what you carry in your wallet by scanning loyalty cards into your phone with apps like KeyRing.
When Slimmy Original was first introduced, the market for slim leather wallets was sparse with competitors. Now, it literally seems that every other Kickstarter in the fashion accessory category for men is a wallet appealing to minimalists. And sadly, most slim wallet makers do not display their thin spec. Why? If a wallet maker is touting a slim wallet you would think listing measurements would be a priority.
We list all of our measurements. Let's examine the Original Slimmy:
3.875" (98mm) length: It's not a trifold/bifold (no temptation to put more than you need into it)
2.875" (73mm): Store paper currency (perfectly sized for the US Dollar) in any of the three pockets by folding it in half.
0.312" (8mm) thin. For a leather wallet, this is slim.
The choices for slim wallet design exploded over the last few years. We welcome this trend because it means more people understand the 'do more with less' ethos. More importantly, it pushes us to think more about all that a wallet can be (with less).
Simply put, this ethos of the Original Slimmy hasn't gone out of style, and it never will. You can't go wrong with paring down and going slim. Specifically designed for everyday carry (EDC), the core driver of design is 'reduction' (of build) without 'elimination' (of function).
Classic design creates classic style that will never go out of fashion.
The pursuit of 'less is more' is the relentless thought behind our every design decision; the core feeling of sophistication and allure is what drives the Slimmy experience of optimization through irritation.
The end result is a lingering sense of excellence in your life. This is what happens with a dedication to minimalist, honest design .