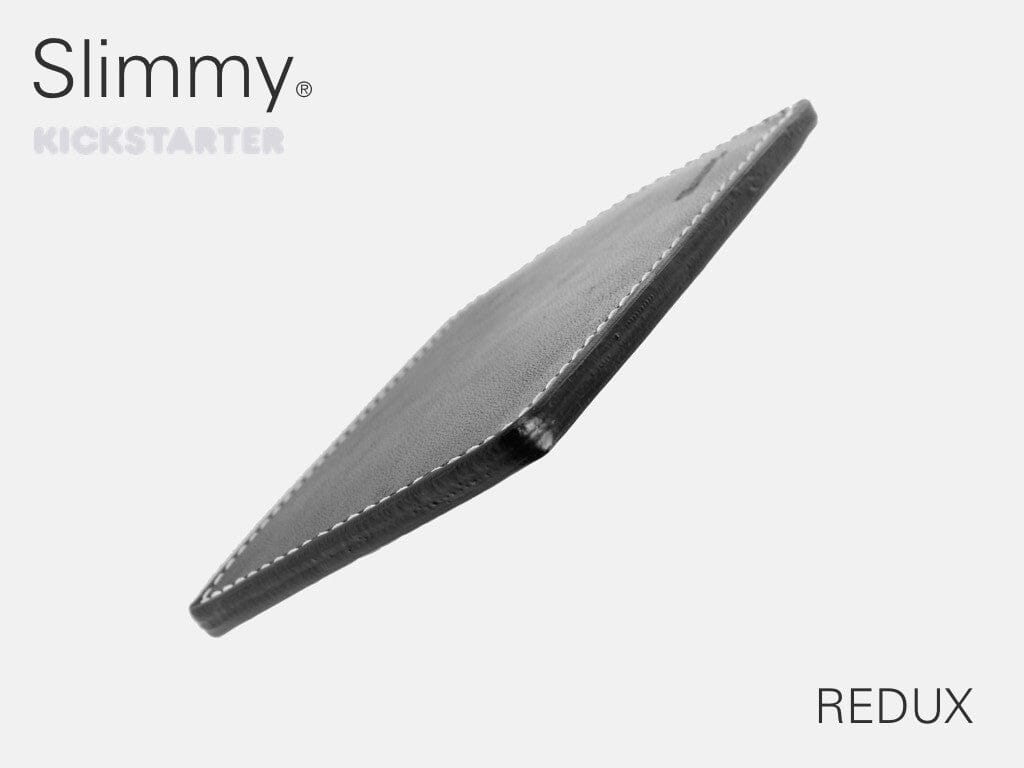 Slimmy Wallet Kickstarter: Funded in 72 Hours
Cleveland, Ohio, December 8th, 2015 —

Slimmy - a slim alternative to bi & trifolds, launched on Kickstarter to help more men solve the mystery of an ever expanding wallet. "Even with smartphones making it easier to store digitally what you otherwise stow in your pockets, a lot of men are still overstuffing their wallets," explains Jay Yoo, Founder of Koyono. "I do not think men really want to carry an oversized, back-breaking, 'fat wallet,' but they are no match for the forces of Parkinson's Law."

"Parkinson's Law states: 'Work expands so as to fill the time available for its completion,'" said Yoo. "This law is universal and applies to your wallet, as well. The more space your wallet has, the more likely it will expand to its greatest size. With all the wallets on the market claiming to be slim, thin, minimal, svelte, etc. many of them also include extra space that will get crammed with 'stuff.' What started out as a slim wallet ends up as anything but. Not Slimmy," Yoo continued.

Slimmy is a well intentioned thin wallet that cannot get overstuffed. Yoo emphasized, "A meticulous redesign has made it even more compact than previous versions by going to a cut versus folded edge, as well as rounded corners. We've taken out as much as we can without compromising function." Slimmy is the only wallet providing both 2-way RFID access and protection, in one. The premium slim wallet is made from full grain USA steerhide and hand crafted by a 4th generation leather specialty company.

"Your life is like a wallet. Give it an inch and it will take a mile," said Yoo. "Slimmy is not only a beautifully designed slim wallet, it can be a daily reminder to look for other areas of your life to unclutter. Based on the positive response we are receiving from Kickstarter backers, I think a lot of these men appreciate the Slimmy both as a product and philosophy," Yoo concluded.

Jay Yoo is the founder and president of bolstr where he discovers, designs and launches lifestyle apparel and accessories for minimal travelers and EDC (everyday carry) enthusiasts. Jay spent 10 years working in corporate america where he traveled the globe uncovering new industrial product opportunities for a manufacturing company in Cleveland, OH. During his travels he began exploring travel apparel and accessory ideas, and eventually ventured off to launch Koyono.com in 2003. In 2014, Jay successfully complete his Bolstr EDC Bag Kickstarter, which was 1700% oversubscribed.
    Slimmy is the only wallet that offers RFID and access in one. Look for the Slimmy logo and face it outward away from your body for RFID protection. Flip Slimmy over to the non-logo side for ...
Read more
qazwilson: submitted by Adam Molina Nobody likes sitting on a bulky wallet. Even the slimmest of wallets can end up crammed with stuff over time, making you wonder why you even bought one in t...
Read more